Although it revolves around a superpowered speedster, The CW's "The Flash" wasn't the series to start the network's slate of DC superhero shows. That honor belongs to "Arrow." Yet as the Arrowverse expanded with new shows, web specials, and memorable multiverse crossovers, "The Flash" always remained a scarlet constant, reliably running along with the media franchise's ever-changing additions and eventual cancellations. However, On May 24, 2023, CW's "The Flash" finally ended, bringing a close to nine seasons and an unforgettable era for television and comics, as now, the "Arrowverse" is officially no more. For years, fans had become used to seeing "The Flash" lead Grant Gustin suit up as the titular hero. And while he may have finally given up the costume, there's one important reminder the actor will always have of his time on the show.
During a special cover shoot for Entertainment Weekly, Gustin put away a few show props in a box, except for the unique lighting bolt ring that houses Barry Allen's suit. Gustin pocketed the ring, but as he admitted to the publication, that wasn't just for the camera; he really did take the ring home. Gustin told EW, "Right as we were finishing, I was like, 'This is going to stay in my pocket,' Now it's in a drawer at home with all of my important jewelry. I put it on, actually, the other day." 
With over a decade acting as Flash, we'd say that Gustin has more than earned the right to keep the ring. Besides, he's not the only Arrowverse star who may have taken home an iconic show prop.
Stephen Amell had eyes for Arrow's Salmon Ladder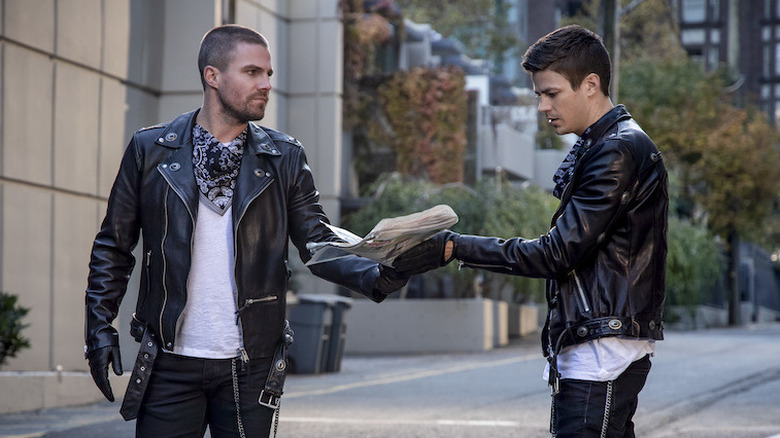 The CW
When we're introduced to Oliver Queen (Stephen Amell) in "Green Arrow," we get a glimpse into his intense workout regime, including ascending pull-ups on a salmon bar device. The "Arrow" moment immediately showed off the extreme dedication Queen had in reaching his physical peak to stop the villains. And it kind of became synonymous with the character. Much like Grant Gustin chose to take home The Flash's ring, Amell once told ComicBook that he planned on taking the salmon bar home when "Arrow" finished airing, as he needed it to stay in shape.
Considering that the actor crushed the particular exercise during an "American Ninja Warrior" appearance, we'd be hard-pressed not to believe his intentions. Now "Arrow" may have bowed out earlier in 2020, but we did get one more look at the Barry Allen and Oliver Queen allyship during Season 9. Amell suited up as Green Arrow again for "The Flash" in the episode "It's My Party, and I'll Die If I Want To." And as the Arrowverse was readying to end this year, bringing the two actors together again for another episode was definitely the right move.